Welcome to the 884th installment of Comic Book Legends Revealed, a column where we examine three comic book myths, rumors and legends and confirm or debunk them. This time, our third legend is about how Joe Giella's tryout for Marvel Comics went disastrously wrong at first.
Recently, the comic book world lost one of the last Silver Age comic book greats, Joe Giella, the man who was the main inker for the Silver Age Flash and Green Lantern revivals, as well as the main Batman inker when the Batman TV series exploded on to the scene in 1966. In honor of Giella's passing, all three legends for this installment of Comic Book Legends Revealed will be about Giella and his comic work. This time around, this legend is about Giella's disastrous attempt to get a job from Stan Lee, Editor-in-Chief of Timely Comics (now Marvel Comics).
RELATED: Batman: How Did Bob Kane Fake Doing 'Spur of the Moment' Drawings?
How did Joe Giella break into comic books?
A fascinating thing about the "Golden Age of Comics" is that there were so many comic book companies out there that things were relatively easy for someone to at least get a SHOT at drawing comic books professionally. This was also due to the format of comic books at the time. Almost every comic book was an anthology, filled with short stories, even solo comic books like Superman or Captain Marvel Adventures (they would just have stories all featuring one hero) and therefore, there was always a need for artists to help fill in those anthologies, as no one artist could typically do a full anthology (the closest you would usually come is when art studios would do books together, like how Bob Kane, Jerry Robinson and George Roussos would do Batman issues together, or when Joe Shuster and his assistants would put issues of Superman together – although there certainly WERE exceptions to the rule, of course. H.G. Peter typically did almost entire issues of Wonder Woman by himself, and Jack Kirby obviously was just as prolific when he was younger as he was in the 1960s, Kirby just tended to work with his partner, Joe Simon, so Kirby would rarely do an entire book by himself since he was doing MULTIPLE books with Simon drawing, as well)
So with that in mind, 17-year-old Joe Giella got his first big break when he penciled and inked a short "Captain Codfish" story for the tenth issue of Hillman Periodicals' humor anthology, Punch and Judy Comics, in 1946…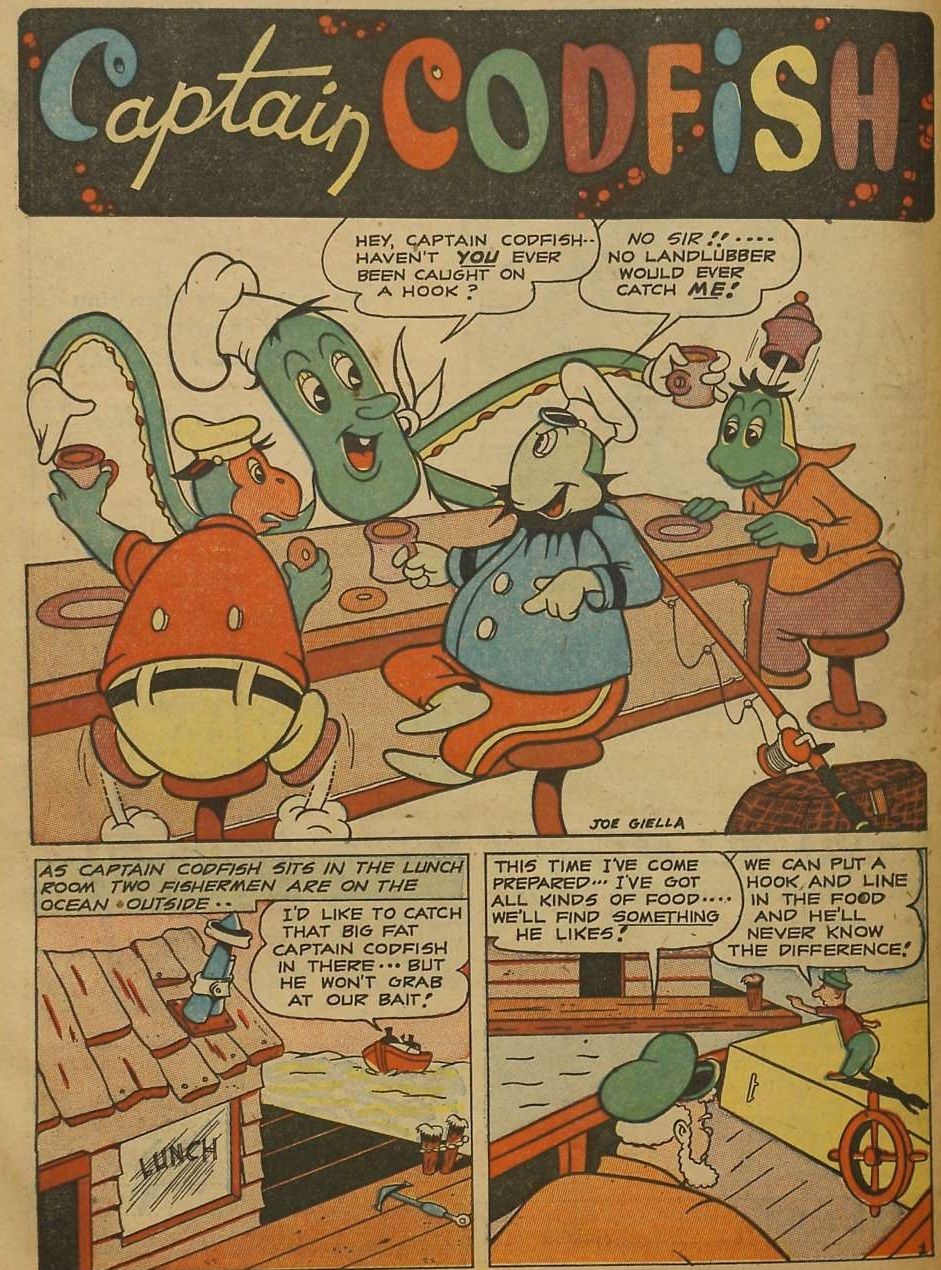 As you can see, he was even able to sign his name to the work, which was very useful. Beyond giving him some money when, what this comic book story most importantly did for Giella was to serve as essentially proof of concept. You know, evidence that he COULD draw a professional comic book story, as, well, here was a professional comic book story by him!
He then shopped that story around to various comic book publishers looking for regular work, and one of those companies was Timely Comics, which is now known as Marvel Comics. Stan Lee liked what he saw, as Timely was heavily into humor comics at the time, as well, and so he gave Giella a short humor story by one of Timely's top pencilers, MIke Sekowsky, to ink. Great break for Giella, right?
Well…not so fast!
RELATED: Was Batman Forced to Quit Teaming Up With Paris Hilton's Great-Grandfather in the 60s?
What disastrous thing occurred when Joe Giella tried to get a job at Marvel Comics?
As Giella explained to Daniel Bubbeo in a 2012 Newsday spotlight on Giella and fellow veteran comic book artist, Al Plastino, things took a bad turn after Giella completed the assignment:
'The first job he gave me I lost on the train. No one slept at my house that night,' Giella jokes. 'I went in the next morning and thought that's the end of my job.'He was nearly right. As a frantic Lee screamed at Giella for his carelessness, Sekowsky came to his defense. 'Mike repenciled the whole job that I lost on the train and I did the inking,' he says. 'Stan liked what I did and I got the staff position. I never left anything on the train again.'He stayed with Lee for three years, working on characters such as the Human Torch and Captain America. 'What they do when you're a young artist is they throw you in a bullpen, and you do a little of everything, which is great training,' he says. 'I'd do a little touching up, doing backgrounds, but at my age when I started, 17, they didn't give you a whole script to work on. That's like the break-in period.'
Giella went to work as Sekowsky's regular inker on one of Timely's knockoffs of Archie Andrews called Willie Comics. Check out their credit starting in issue #7 as "Art associates"…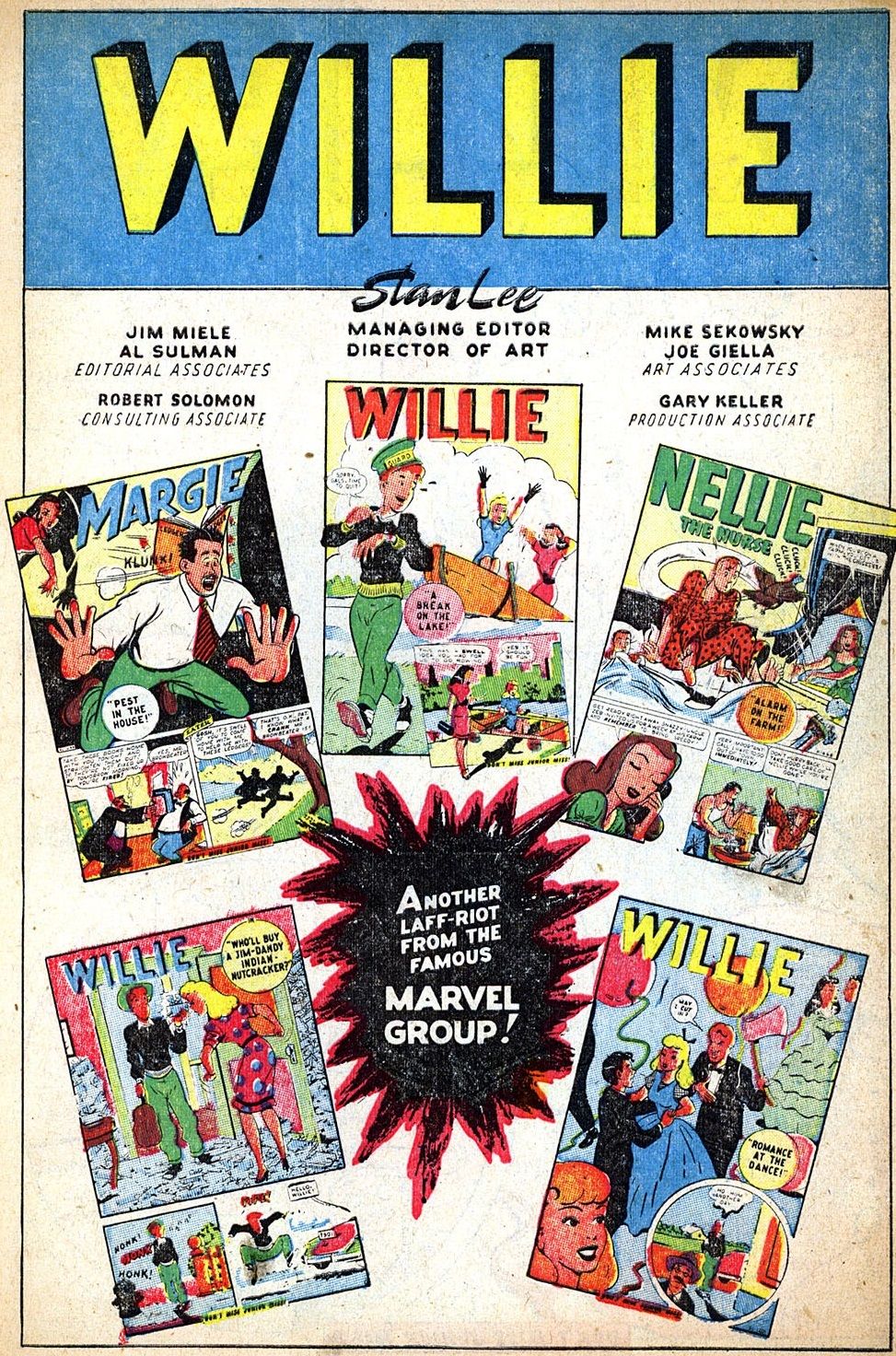 And here's a sample page from the issue by Sekowsky and Giella…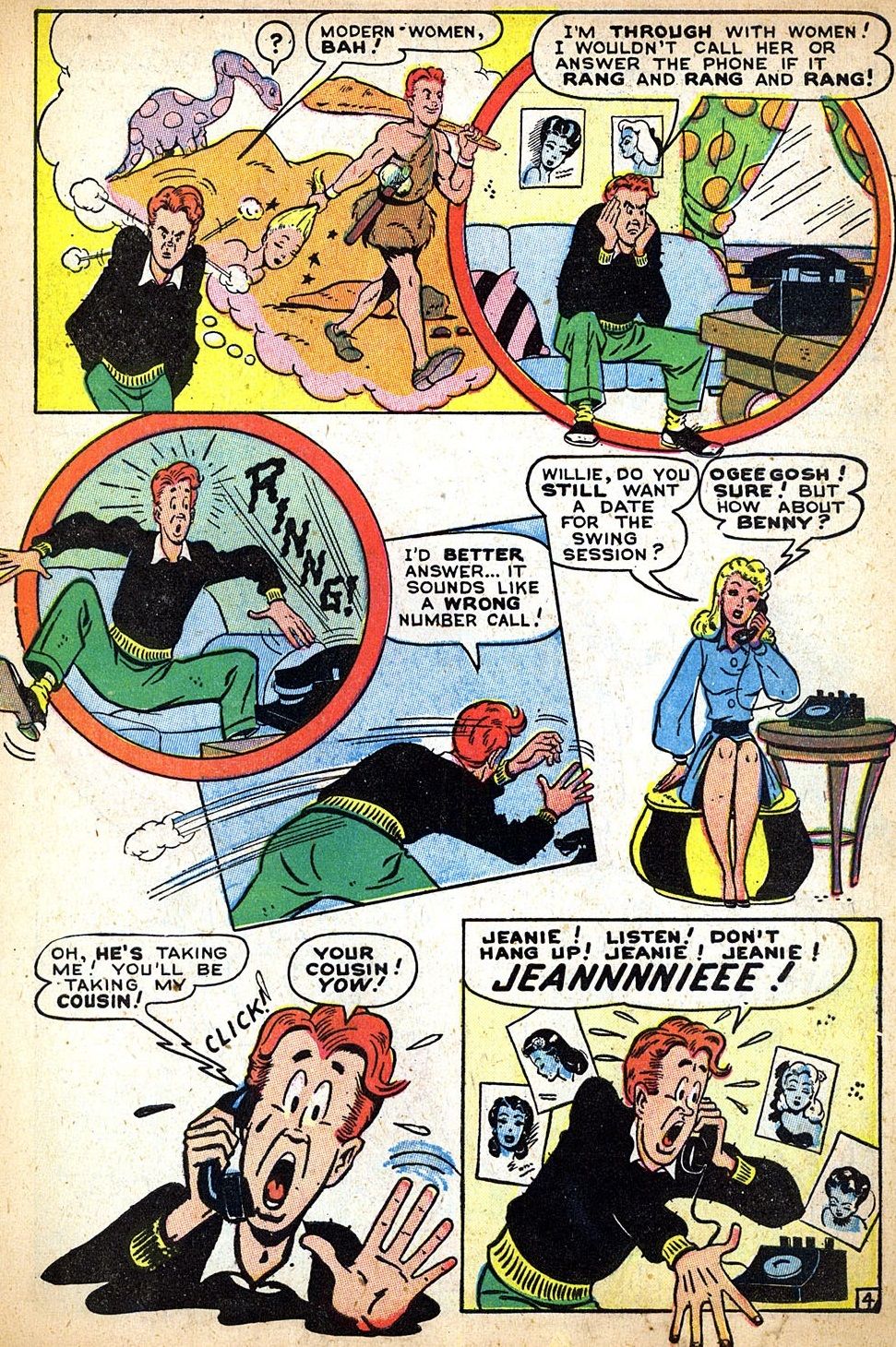 Interestingly, in an interview with Bryan Stroud, Giella explained how he was later able to pay Sekowsky's favor back to him when they were both working for DC in the early 1970s…
Mike Sekowsky had a very bad temper. Anyone that crossed him had better look out. He drank. He had a great style and knew how to dress characters in up to date fashions. We called him "The Speed Merchant." Mike could pencil 5 to 7, even 10 pages a day. He couldn't ink, but he could pencil very, very fast. He was good and was a credit to the company. He was the go-to guy, but began to deteriorate later. One day he completed a story and I was asked to ink it, but it was very bad and I couldn't ink it. I was asked to re-pencil it and I did so gladly, because Mike really saved me once on a job and wouldn't accept a dime for his help. Wouldn't you know that when I delivered it, Mike was in the office, raging at Dick Giordano? I told him I had to re-do the whole job and expected him to be teed off at me, but he wasn't. He was really teed off at Dick Giordano for not giving him more work. He called about 6 months later from California asking if I had any work for him. Imagine the great Mike Sekowsky calling me for work. At the time I was working on the Flash Gordon strip, but it wasn't mine and I didn't have the authority to give him work and the editors didn't want to take a chance on him. It was sad. I liked Mike very much, but the drinking was really starting to hurt him.
Thanks to Daniel Bubbeo, Bryan Stroud and the late, great Joe Giella, for the information!

CHECK OUT A MOVIE LEGENDS REVEALED!
In the latest Movie Legends Revealed – Did Splash originally have a MUCH different ending?
Be sure to check out my Entertainment Legends Revealed for more urban legends about the world of film and TV.
That's it for Comic Book Legends Revealed #884! Feel free to send suggestions for future comic legends to me at either [email protected] or [email protected].