Scarlet Witch and Vision's relationship has been at the center of many Marvel stories, but one universe had the most tragic version of the tale.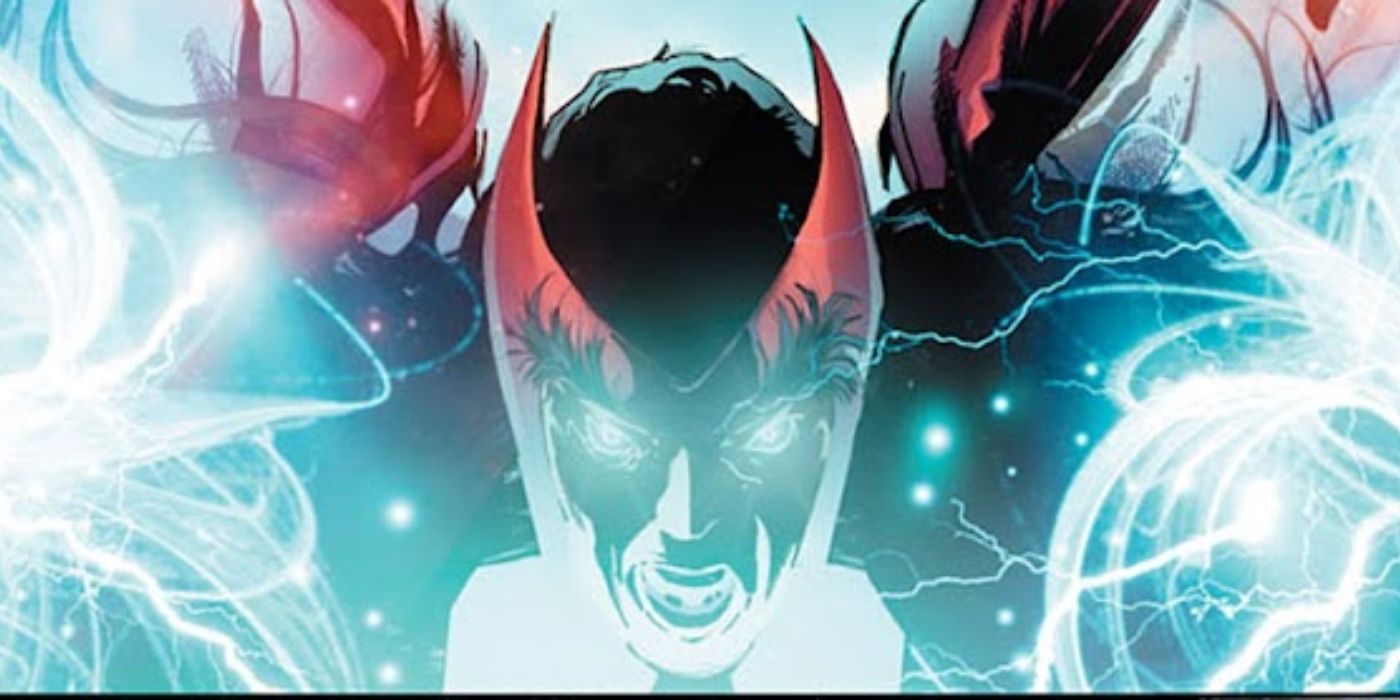 The pairing of Scarlet Witch and Vision has long been one of Marvel's most tragic romances. Their love story, which served as the basis for Scarlet Witch's storyline in the Marvel Cinematic Universes' fourth phase is one defined in part by loss, grief, and bittersweet memory of better days gone by. There just aren't many versions of the pair who get a truly happy ending across the multiverse.
This is especially true for the versions of the two from the Cancerverse, the grim timeline introduced as part of The Thanos Imperative (by Dan Abnett, Andy Lanning, Miguel Sepulveda, Jay David Ramos, and VC's Joe Caramagna). In that world, Scarlet Witch and Vision's romance survived even the corruption of their entire timeline. But in the end, both characters were too committed to heroism, sacrificing themselves and their relationship to help protect the greater multiverse.
RELATED: X-Men: Sins of Sinister Revealed a Sadistic (And Effective) Way to Destroy Thanos
How Scarlet Witch and Vision Remained Together In A Corrupted Timeline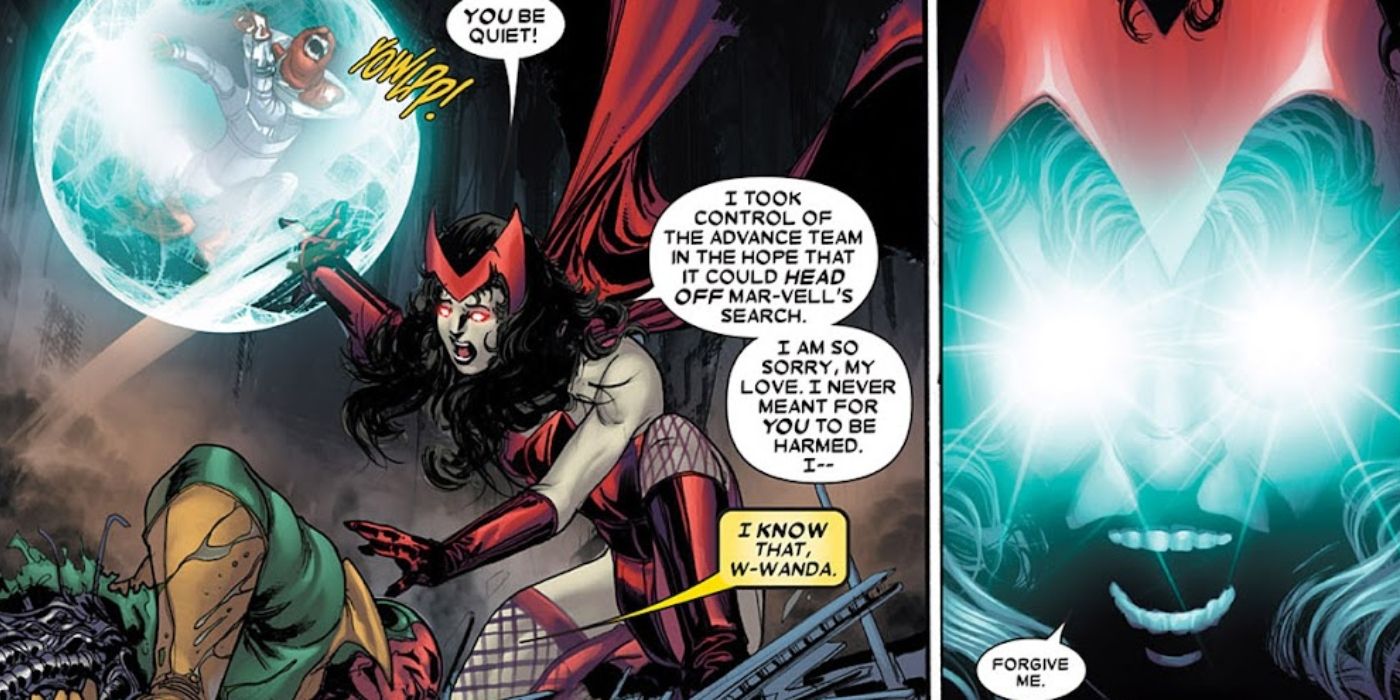 Earth-10011 began like many versions of the Marvel Universe, with plenty of heroes committed to protecting their world. But in this timeline, the death of Mar-Vell became a defining moment of change. In the core-Marvel Universe, Mar-Vell's death was a somber and quiet one. He peacefully passed away due to complications related to his cancer. But on Earth-10011, Mar-Vell's sickness caught the attention of the Many-Angled Ones. A race of horrifying Cthullu-like beings, they convinced Mar-Vell that even death may die, and that could live on in a world ruled by them. Corrupting the other heroes into his champions, this version of Mar-Vell survived his cancer and even conducted rituals to destroy Death in this timeline.
The Many-Angled Ones were able to breach the timeline and transform reality even further into a nightmarish hellscape, with Mar-Vell as their avatar. Eventually dubbed the Cancerverse, the denizens of this timeline would try to invade and infect other timelines. The only heroes to largely be spared this corruption were the purely robotic heroes like Vision, who led a robotic resistance against their former allies. One of Vision's only allies proved to be his wife, Scarlet Witch. As with the rest of the Avengers, Mar-Vell's corruption had transformed her into a darker form — but her magical experience and resistance allowed her to retain more autonomy. As a result, this Wanda and Vision were able to continue their romance in secret, with Scarlet Witch serving as his spy within the newly dubbed Revengers.
RELATED: Thanos Just Received His Most Powerful Upgrade – And Was No Match For an MCU Avenger
The Scarlet Witch and Vision of the Cancerverse Had a Tragic Fate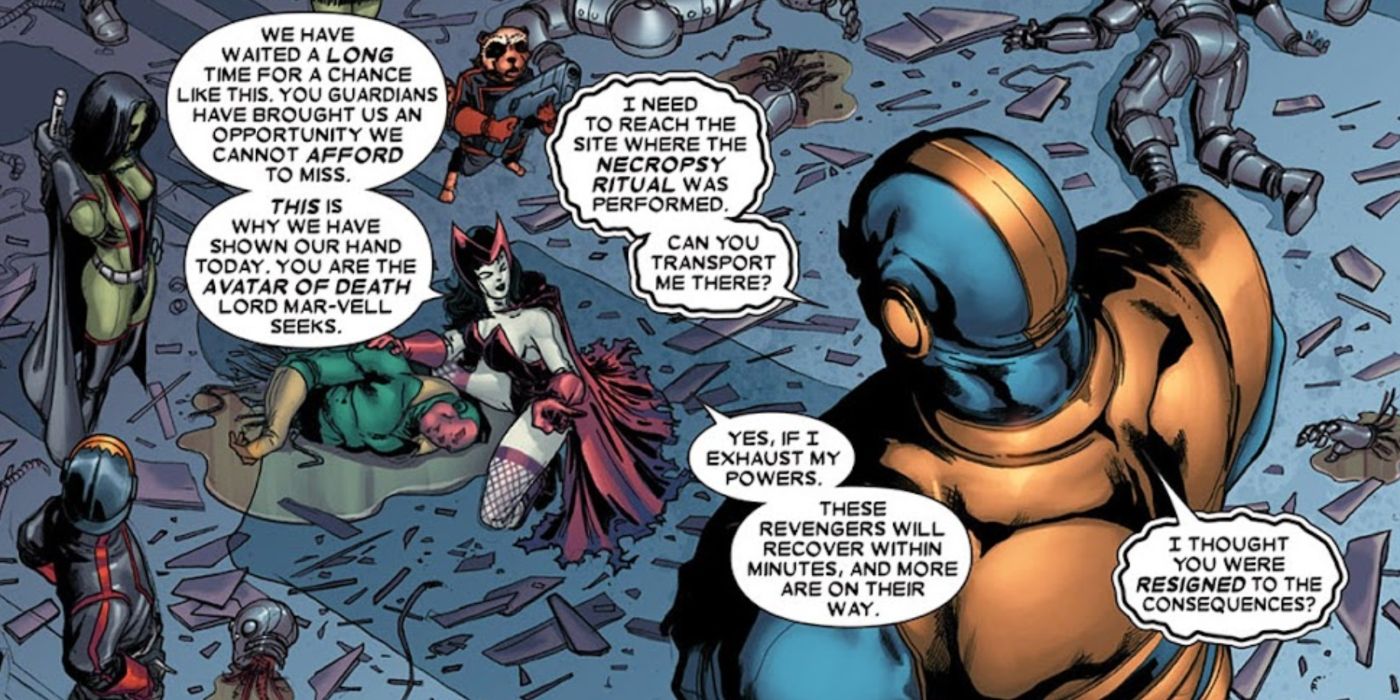 As in many timelines, the love between Scarlet Witch and Vision became a defining relationship for both of them. It's possible that if Wanda had been fully corrupted, the Vision of the Cancerverse wouldn't have even tried to fight back against Mar-Vell's rule. But in the end, the romance between the pair still ended in tragedy. The Cancerverse interacted with the core-Marvel Universe of Earth-616 in The Thanos Imperative, leading the Earth-616 Guardians of the Galaxy to venture to the ruinous timeline. Vision and Scarlet Witch offered their help and even ensured they could escape Mar-Vell's grasp by teleporting them away with Wanda's magic. But as a result of their actions, Mar-Vell eliminated the two once and for all.
Vision was seemingly destroyed fighting the Revengers, and Scarlet Witch was tortured by Mar-Vell and eventually had her soul destroyed. WandaVision may have been a tragic version of the Scarlet Witch/Vision romance, but that story didn't destroy an entire universe. The MCU version of the romance saw Scarlet Witch be corrupted by the Darkhold, but rediscover enough of herself to let go of her dangerous mission in the film's final moments. The Cancerverse Scarlet Witch did everything she could to stave off a similar corruption and only lost herself as part of a bid to protect the multiverse at large. The fact that she lived on in some form as a shell of herself, without her husband or the love that had defined them, adds an even more tragic layer to her story.